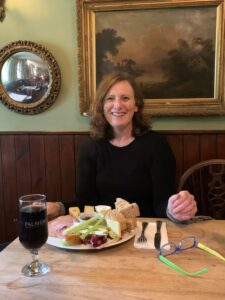 Jennifer Tucker
(BA, Stanford University, 1988; M.Phil, University of Cambridge, 1990; PhD, Johns Hopkins University, 1997)
I am a historian who studies the interrelations of art and science, photography, and mass visual culture, with a specialization in 19th to mid-20th century British, U.S., women's and gender history, and trans-Pacific history. The common threads in my diverse research fields are the dynamics of visual media in modern history, the nature of evidence, public perceptions and practices of history, and the interrelationships of science, technology, and the law. 
I am interested in how and why new forms of visual evidence evolve, and what we learn about the past by investigating the functions that images and other objects serve when they are put into mass circulation across private and public domains in places as varied as homes, schools, laboratories, museums and courtrooms.
My interests extend to the study of technologies and industrial histories, including of chemical and ballistic technologies. I share this scholarship with the public through a number of public history projects and museum collaborations that seek to uncover new insights and approaches to history, particularly through visual and digital storytelling projects.
Current Projects
I am currently working on two book projects. The first is a study of identity, photography, and imposture in the 19th century. It draws on hundreds of photographs, engravings, and other visual materials associated with one of 19th century Britain's most high-profile trials, the Tichborne Affair, to show how photographs, their circulation, and commentary upon them shaped the meaning of legal decision-making. It also explores how caricatures, news illustrations, and other artistic responses shaped popular understandings and uses of the law. The second book project revolves around archival research on chemical waste and photography in 19th century British society, focusing on the alkali industry in northern England.
I invite you to see more of my work in my CV and to explore my various research areas.